The Best Nissan SUVs for the Family
The new Nissan models might stand out to you if you have been looking for a new SUV. These SUVs are family-friendly, thanks to various amenities, including cargo space and safety features. Whether you buy a brand new Nissan SUV or one of the pre-owned models, you'll find plenty of options to suit your family. These are some of the Nissan SUVs you should consider.
Nissan Murano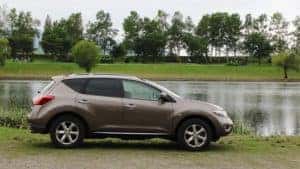 If you're looking for something luxurious, the 2022 Nissan Murano is a fine choice for a larger family. While this crossover SUV is not as large as some of the other options on this list, you can still fit five people comfortably. The interior offers 67 cubic feet of climate-controlled cargo space.
The LATCH (Lower Anchors and Tethers for Children) system helps protect children with safety restraints in the second row. That means you won't have to rely on a seat belt or locking clip to hold the car seat down. Plus, the vehicle offers 10 standard airbags throughout the cabin to keep each passenger as safe as possible, no matter their location in the vehicle.
Nissan Rogue Sport
The Nissan Rogue Sport is a fuel-efficient midsize SUV that will help you affordably get from one location to another. The Nissan Rogue Sport gets up to 25 mpg in the city and 32 mpg on the highway. Safety features are also an important part of what makes the Rogue Sport the total package. Not only does it offer automatic rear braking and emergency braking with pedestrian detection, but it's also equipped with a rear cross-traffic alert and lane departure warning.
Like many other newer vehicles, the Rogue Sport offers Rear Door Alert, which reminds drivers to check the backseat for precious cargo. Families will also enjoy remote engine start with intelligent climate control, which helps you get the car comfortable before everybody loads up.
The cargo capacity of the Nissan Rogue Sport is sufficient for most families. The Divide-N-Hide feature means you can fold down the back seats or use a small panel to help keep items from moving around after a shopping trip. The 2022 model offers seating for five people and dual-zone temperature control to make everybody happy. You've also got 61.1 cubic feet of cargo space calling your name.
Nissan Rogue
If you want something bigger than the Nissan Rogue Sport, you can opt for the Nissan Rogue. This car is more fuel efficient than other options and has plenty of space. You'll get 30 mpg on city streets and about 37 mpg on highways. Compared to other SUVs, that's amazing. Of course, the Rogue also has safety features, including four cameras to help with parking and a lane departure warning.
The 2022 Nissan Rogue also offers up to 74.1 cubic feet of cargo space, with the rear seats folded down. A motion-activated liftgate is available to help you get into the back of your SUV more easily, even if you are carrying a child. Your family of five can easily fit in this SUV, and so can your groceries.
One of the great family features of the 2022 Nissan Rogue is that the rear doors open wider than other vehicles. This means no more struggling to fit a car seat or small child into the car. Child seats also position better, thanks to lower anchors in the rear seats. Rear-door sunshades and a Rear Door Alert system are also helpful for those with small children in the backseat.
Nissan Armada
The Nissan Armada is the original Nissan SUV, and it's a great luxury option. If you're excited to add more "oomph" to this vehicle, you can add a rear-view camera and other safety features. Some trim options include automatic emergency braking, a power liftgate, heated exterior mirrors, and rear privacy glass. The 2022 Nissan Armada also offers noise reduction, which is great if you've got little ones sleeping in the back. Heated rear seats will even keep them toasty in the back while the car heats up.
If you plan to haul more than the family, you'll love that the Armada has a towing capacity of 8,500 pounds for trailers. Additionally, the cabin boasts 92.6 cubic feet of space, with the second and third rows of seats folded down. That's right — this Nissan SUV comes with three rows of seats so that you can transport eight people. You can also opt for captain's chairs in the second row. Even with all that, you'll still have the space you need for groceries and other cargo.
Nissan Pathfinder
The Pathfinder is a great choice for bigger families and those that need more space. If you need seven seats, everybody will fit comfortably into this vehicle. While you won't get the great gas mileage you would get with other options on this list, you'll be able to tow 6,000 pounds. That means you can travel carrying way more than you would with some of the smaller SUV options.
Regarding the interior, you may be able to transport as many as eight people, but you also have the option of second-row captain's chairs for a spacious 7-person ride. You'll be able to store plenty in the cabin, from bikes to boards. Temperature control ensures everybody has a comfortable ride, no matter where you are headed.
The 2022 Nissan Pathfinder is also car-seat ready, thanks to Latch and Glide technology. Drivers will also enjoy the Rear Door Alert to tell them when items in the second or third row need to be retrieved. This will be a great reminder if you have little ones in the back. Built-in rear sunshades also ensure that your backseat passengers don't arrive exhausted from the sun.
If you have your heart set on a Nissan SUV, now is a great time to check out the different options. You can test drive some of the SUVs at Nucar Nissan of North Attleboro to see which vehicle is best for your family. You'll get around comfortably and in style, no matter your budget.
SUV Life by MIKI Yoshihito is licensed with CC BY 2.0